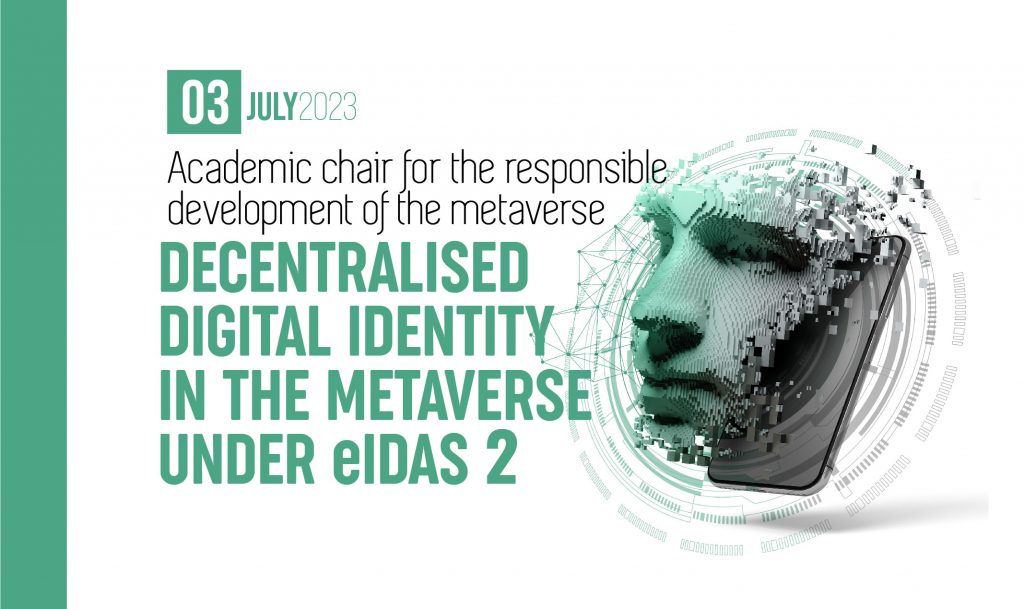 Webinar III: Decentralised Digital Identity in the Metaverse under eIDAS 2
Last Monday, 3 july 2023 the Chair for the responsible development of the Metaverse and the Cátedra Fundación Integra sobre Identidad y Derechos Digitales held the Webinar "Decentralised Digital Identity in the Metaverse under eIDAS 2", which is the second activity that the Chair dedicates to this topic after the Webinar II that took place last week about Avatars and the Protection of Digital Identities in the Metaverse.
This time, Steffen SCHWALM (Senior Manager Digital Identity & Trust at MSG) has presented the preliminary conclusions of a paper he is writing about the eIDAS 2.0 Regulation which will define the legal and technical framework for decentralized digital identities and trust services in EU and EFTA.
Some questions covered in the paper and discussed in the webinar were about how eIDAS 2.0 relates to Metaverse or when a private entity need to accept the European ID wallet which Steffen SCHWALM has specified that pertains to any company which is part of critical infrastructure, any market leading platform providers.
He received comments from Monica PALMIRANI (Full Professor of Legal Informatics, University of Bologna) and Ignacio ALAMILLO (Advisor at Logalty) who, as discussants, remarked the need of investigating other aspects of Metaverse such as how to integrate the relationship or interaction between agencies that are not physical (i.e. sensors) because they are the middle-framework for entering in the Metaverse or the enormous constellation of important topics related to Metaverse , i.e. neurorights, or the risk of identification.
The webinar was moderated by Julián VALERO-TORRIJOS (Professor of Administrative Law at University of Murcia).
This webinar was part of the research activities organized by the MetaverseUA Chair on legal and ethical questions of the metaverse for the purpose of promoting its responsible development. If you want to be informed about our activities, please subscribe to our mailing list.