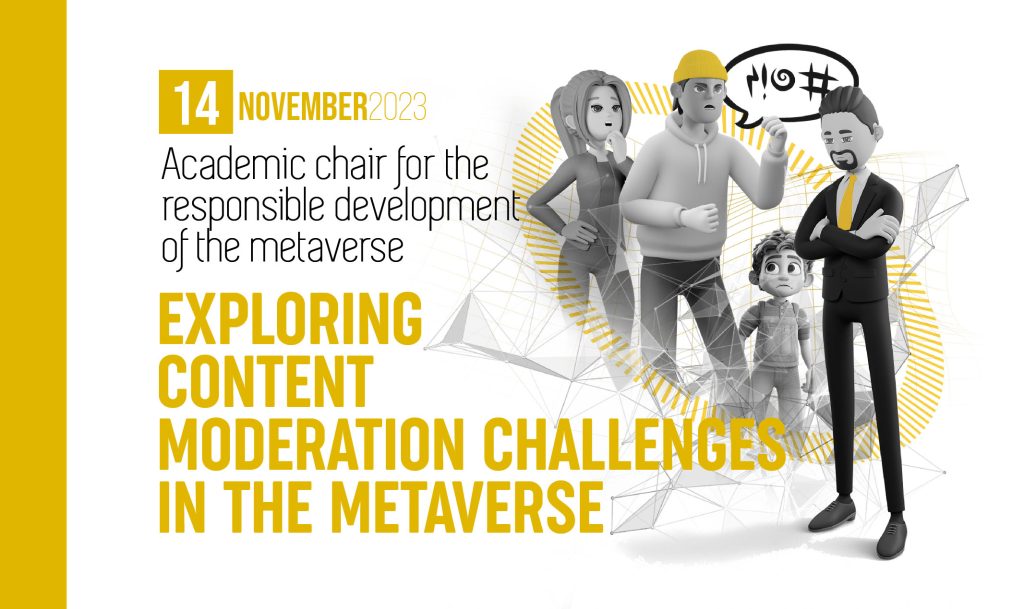 Webinar V: Exploring Content Moderation Challenges in the Metaverse.
Paul POLANSKI (Professor at Kozminski University, Warsaw) will present the preliminary conclusions of the paper he is writing on the topic. He will receive comments from Judit BAYER (Senior Research Fellow at University of Muenster) and Giancarlo FROSIO (Professor of Law, Queen's University, Belfast).
The primary focus of the paper is the application of the Digital Services Act (DSA) to internet platforms that offer metaverse-like experiences. Currently, these platforms enjoy conditional exemption from liability under Article 14 of the E-commerce Directive and are relieved of the obligation to actively monitor illegal activities under Article 15. However, the recent enactment of Article 17 of the DSM Directive has ushered in changes that have disrupted the landscape of safe harbors, creating potential gaps in the otherwise comprehensive approach to the liability of hosting service providers for content posted by their users. The DSA also includes due diligence obligations whose application in metaverse scenarios might be controversial.
Some of the key questions we'll address during this webinar include
Are platforms providing metaverse services considered hosting service providers under the E-commerce Directive and DSA?

Do metaverses fall under the category of online service providers as defined by the DSA?

Can metaverse platform providers still take advantage of the safe harbor provisions?

What challenges might arise with the implementation of the Notice-and-Action mechanism outlined in the DSA?

What are the obligations of online platform providers when it comes to blocking content or suspending metaverse user accounts?
The webinar will be moderated by Julián LÓPEZ RICHART (Associate Professor Civil Law, University of Alicante).
Please join us and help us to get a responsible development of the Metaverse next Tuesday 14 November 2023 at 16.00 (CET). You can register for this free event here.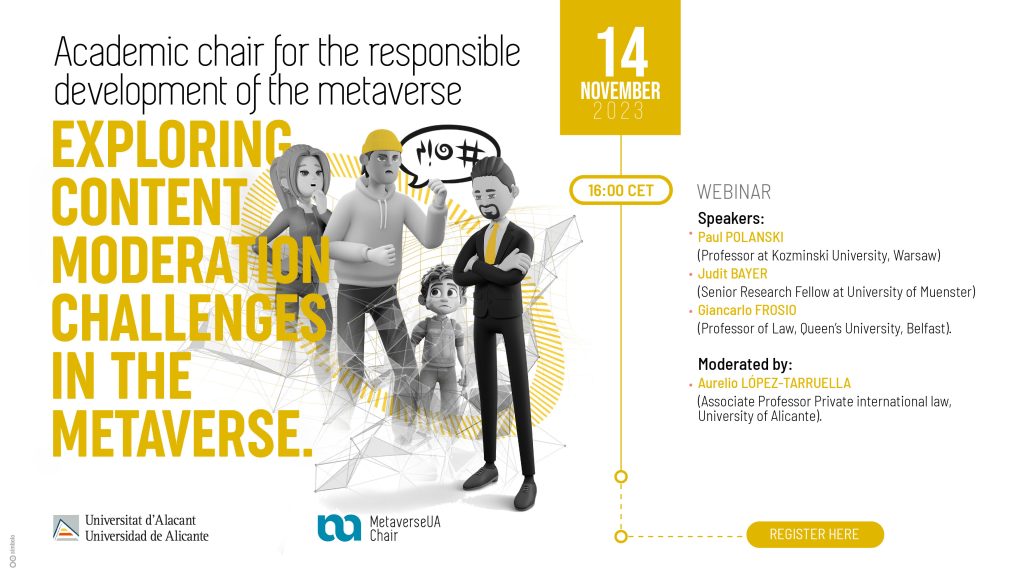 This webinar is part of the research activities organized by the MetaverseUA Chair on legal and ethical questions of the metaverse for the purpose of promoting its responsible development. If you want to be informed about our activities, please subscribe to our mailing list.